Two of Fuzz v2
The "Big Brother" features selected vintage n.o.s. (new old stock) transistors . Two nkt275 and two AC128 transistors . You can select eather one pair of nkt's or one pair of AC's..Or even mix them . You get four different combinations . It also features Fuzz & Vol controls , two Bias Potentiometers (one for each selected transistor) and a Attenuator potentiometer. Let me talk about the attenuator. Most of vintage fuzz face fans use to put fuzz and volume at maximum, or nearly at maximum. The behavior of the vol pot this way changes, and you get a little bit more gain and a brighter tone. The problem when you set the vol potentiometer at 3'o'clock and beyond is that it is too loud . That's why the attenuator appears in the equation. This is also important if you want to mix the fuzz effect with some other pedals like vibes, octavias,.. With the attenuator you can easily find an unitary volume or whatever you need.

Two of Fuzz v2
Prices :
* With TWO n.o.s. transistors = 140eur. This price includes all controls ( Fuzz, Vol, Attenuator or Master Volume , Bias 1 and Bias 2 potentiometers ) and battery clip .
* With FOUR transistors = 205eur . This option includes all mentioned above and four different transistor combinations. We normally suggest a low gain transistors pair for classic tones and a higher gain transistors pair for upper switches position .
(for nkt275 please ask price and stock )
* Please ask n.o.s. transistors stock
Two of Fuzz v1 -- NOT LONGER AVAILABLE !!! Not enough space for controls and battery connector. Most of the people prefer all these features
Classic Fuzz tones
Vintage Germanium Transistors !!!
** FF Style **


Fuzz model v1 by RC Pedals. Two of Fuzz captures the vintage sunface/fuzz face tones with new old stock germanium diodes and two trimpots for easy bias adjustment with a screw driver !!! It also features a low noise circuit design, an attenuator potentiometer and true bypass footswitch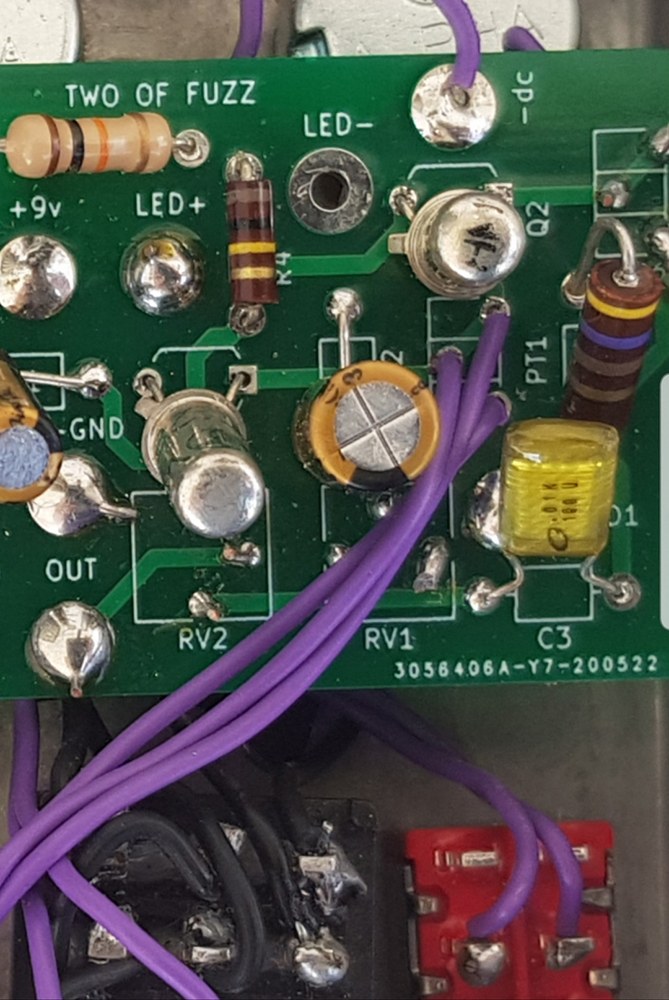 Two of Fuzz v1
Lifetime warranty* with stock vintage germanium diodes ( new old stock )
( Currently nkt275 prices and stock are completely crazy !!! )
 Lifetime warranty !
* Except cosmetic damage & bad use of the pedal.
Abuse and also shipping costs
are excluded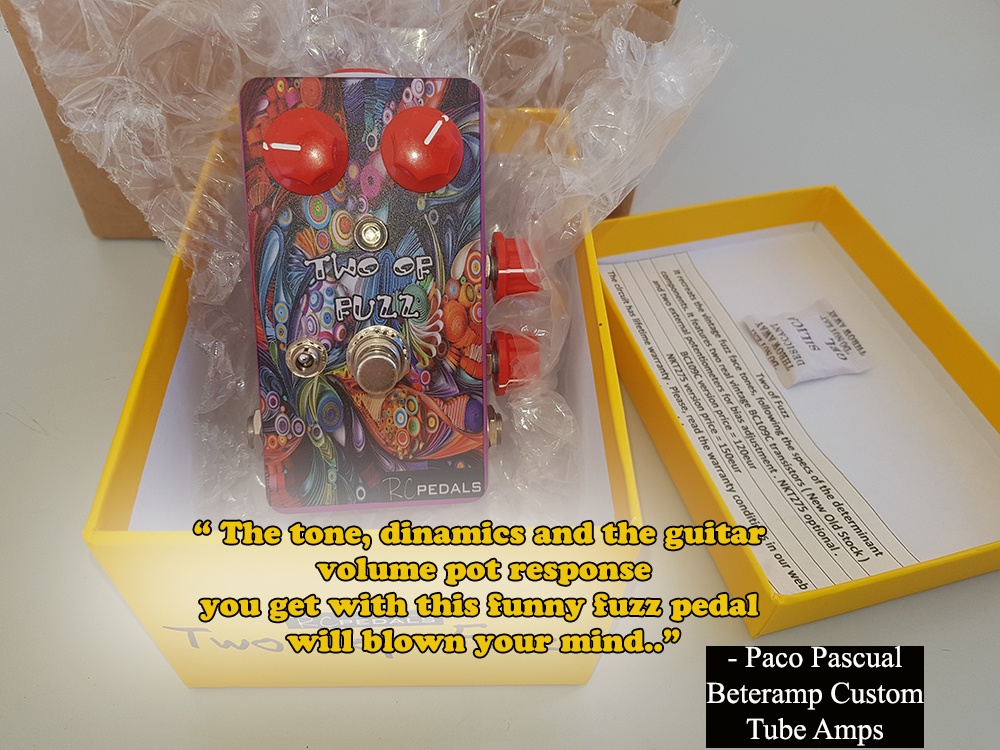 You can place your order via e-mail or at reverb.com
info@rcpedals.com